The outgoing director of the U.S. National Institute of Allergy and Infectious Diseases (NIAID) and President Joe Biden's chief medical adviser, Dr. Anthony Fauci, has accused China of failing to cooperate with an investigation into the origins of COVID-19.
Speaking on CBS's "Face the Nation" on Sunday, Fauci was asked whether he has seen any of the data that Beijing has handed over after being asked to do so by the United States as part of a probe.
The health official explained that he had yet to see such data, before accusing China's ruling Chinese Communist Party (CCP) of acting secretive and raising suspicions throughout the globe that they may have covered up the origins of the pandemic.
"No," Fauci responded when asked if he had seen any of the data.
"You know, one of the problems is that—and this is historic, it goes way back to bird flu, the H5N1, the H7N9, the original SARS-CoV-1—is that the Chinese, not necessarily the scientists that we know and we have dealt with and collaborated with productively for decades, but the whole establishment of political and other establishments in China, even when there's nothing at all to hide, they act secretive, which absolutely triggers an appropriate suspicion of like, 'What the heck is going on over there?'"
Fauci said that Beijing had provided the United States with an explanation as to why they will not allow officials to look at the primary information pertaining to the initial outbreak. However, he noted that officials with the World Health Organization had managed to obtain some "actually quite helpful" data during its visits.
The United States, Fauci said, needs more "transparency" from Beijing and a "collaboration to open things up so that we can discuss it in a non-accusatory way."
'We've Got to Investigate Every Possibility'

The health official added that the Biden administration is eager to know all of the details regarding what occurred with the original individuals who were first infected with COVID-19 but stressed that the administration will "keep a completely open mind as to what the origin is."
"Having said that, if you look at the examination by highly qualified international scientists, with no political agendas, they've published in peer-reviewed journals that the evidence is quite strong that this is a natural occurrence. Does that mean we've ruled out that there was something funny going on, a leak? Absolutely [sic]. And I and all of my colleagues keep an absolutely open mind. We've got to investigate every possibility because this is too important not to do that."
Republican lawmakers had previously indicated that they would investigate the origins of COVID-19 if they won a majority in the House, which they did earlier this month.
In October, Rep. James Comer of Kentucky told The Epoch Times that GOP lawmakers had already uncovered "growing evidence" that the virus "likely originated from the Wuhan Institute for Virology (WIV) in China and the Communist Party of China covered it up."
GOP lawmakers have also indicated that they will summon Fauci to testify under oath as part of the probe.
Fauci told CBS on Sunday that he was "fine" with being called to testify before lawmakers and that he is "very much in favor of legitimate oversight" but claimed that GOP lawmakers have "clearly politicized it."
"I'd be more than happy to explain publicly or otherwise everything that we've done. And I can defend and explain everything that we've done from a public health standpoint," he added.
Fauci is resigning as director of the NIAID, chief of the NIAID Laboratory of Immunoregulation, and chief medical adviser to Biden in December.
The most valuable lesson a True the Vote co-founder took from being jailed for contempt of court a week before the 2022 midterms was the realization of how important the right to vote is in protecting people's freedoms.
Catherine Engelbrecht, co-founder of the election integrity group True the Vote; and Greg Philips, True the Vote board member; were detained by U.S. marshals on the orders of the federal judge in connection with a civil lawsuit brought against True the Vote by Konnech, an election management software firm.
Engelbrecht told EpochTV's "Crossroads" program on Nov. 11 she took many lessons from this incident, with one of the most valuable being "how precious freedom really is, and how seriously we ought to take our civic duties and our responsibility to vote and our responsibility to stay engaged."
In September, Konnech sued True the Vote and its leaders, alleging that they gained unauthorized access to its computers and obtained information from them while defaming the company.
In the lawsuit and a motion for a temporary restraining order, Konnech said that the defendants made "completely baseless claims" that Konnech's CEO and employees were Chinese operatives and that the FBI was investigating Konnech.

The judge ordered the defendants in September to identify each person and group involved in accessing the computers and to disclose how the computers were accessed.
The defendants refused to reveal the source of their information, "arguing that to do so would hinder an FBI investigation concerning the matter, or jeopardizing 'national security,'" according to the judge's order.
At the end of October, Phillips said in an affidavit that defendants would "comply fully" with the order and that the name of one person who was an FBI confidential informant and accessed information from a computer was revealed in court during a hearing.
Phillips also said that the only people who had "possession, custody, or control" of the information were the person whose name was revealed in court and the FBI and its agents.
When Phillips and Engelbrecht continued refusing to reveal other information, including the name of the second person who was present when Philips allegedly viewed some data on a computer, the judge ordered the defendants jailed "until they fully comply" with the order to disclose information.
Engelbrecht and Phillips were released from jail a day before the midterms through an emergency appeal to the Fifth Circuit Court, which overturned the lower court's order.
Two weeks after the election, the court of appeals cleared the two True the Vote leaders of contempt of court.
In October, Konnech's CEO was arrested for allegedly stealing poll worker data and hosting it on servers in China. Those charges were dismissed by a California judge on Nov. 9 at the request of Los Angeles District Attorney George Gascón.
Unprecedented

 "We were held in contempt of court in a civil case where the federal judge decided to imprison us without bond in a medium security criminal penitentiary," Engelbrecht said about the imprisonment of her and Phillip.
"When the sentence first was given in the courtroom and we were taken into custody, initially the U.S. marshals didn't even know quite how to book us because what was happening was so unprecedented," Engelbrecht said. "The term political prisoner comes to mind."
Every station of law enforcement that Engelbrecht and Philips came in contact with found their imprisonment unprecedented in the context of a civil lawsuit, Engelbrecht said.
They were put into solitary confinement, supposedly for their own safety, because they were sentenced to a criminal facility, she added.
"It [happened] the week before midterms when an organization like True the Vote is at its peak in terms of the work we're doing on the ground. And it took us absolutely off the field."
Jail Experience Strengthened Resolve to Defend Right to Vote
In jail, when Engelbrecht was pulled out into a line to undergo some "awkward" medical testing, an inmate who probably saw her "viscerally objecting" told Engelbrecht: "You need to understand that in here, your life is not your own."
"That just sunk to the core of my being," Engelbrecht said. "I was in a place where my life was not my own. Yet, on the other side of those walls, I fight daily for people's voices to be heard through the power of their vote and to engage in the process of good governance."
Seeing "how quickly that can be lost, and how precious it really is," Engelbrecht understood "how important it is that we realize the battle that we are in."
To say that her resolve has redoubled would be an understatement, Engelbrecht continued. "I am more determined now than ever to stay this course because I think our country is in peril. We must stay engaged or we risk losing those freedoms that we so often take for granted."
"Things like this are happening with increasing regularity," she noted.
Lessons Learned From Midterms

Engelbrecht shared that during the 2022 midterm elections, she observed what she described as "lawlessness of process," referring to problems with mail-in ballots and issues of chain of custody as well as other problems.
There had been influential voices that had been cautioning people to only vote on Election Day, Engelbrecht said. However, True the Vote and others in their circle cautioned not to do that because it was not "the level playing field."
"If everyone only votes on election day, then that would be a different matter," Engelbrecht said, "but, in fact, when you have other camps getting out their votes early and being able to tactically anticipate that if votes coming out on Election Day are a large part of what needs to be focused on, it makes it much easier to throw a wrench into those plans and wreak all manner of havoc."
"Being aware of what we face as a country," Engelbrecht hopes that "we maybe find our common humanity back as Americans and realize that we are a lot more alike than we are different."
"It really doesn't in the end matter if you are a Republican or a Democrat. If you love this country, you want the best for your kids, you want for freedoms for yourself and your fellow countrymen, then there's common ground to be found."
"We've got to find a way to work together where we can so that we can preserve the opportunity to argue at the elections, argue at the ballot box, but let's argue, let's not go to war."
"I think that left to its current trajectory, there are some dark days and America needs to stand up now and unite."
Zachary Stieber contributed to this report.
Army National Guard soldiers are reportedly leaving at a faster rate than they are enlisting for service. According to officials, over 7,500 have retired or left the Guard this past fiscal year. Maj. Gen. Rich Baldwin, chief of staff of the Army National Guard, told The Associated Press that current challenges to staffing are the worst he's seen in the two decades.
Regarding the military's recruiting woes, Corporal Rolando Martin, a national guardsman who has served in the Army for over 17 years, said while that many have focused on active-duty personnel, the National Guard is also suffering. He currently serves with the Florida National Guard, and emphasized that his views do not reflect the views of the Department of Defense (DoD) or the Department of the Army.
"Even though Governor DeSantis is in charge, [the Florida National Guard] is financed by the federal government, so they still have to follow everything the active duty does," Martin told The Epoch Times. And as a result, he said, he has no doubt that recruiting and retention shortfalls will continue to occur not only within active-duty service, but in the Army Reserves and National Guard as well.
In June, Martin was informed that he would be discharged from the Army for having not taken the COVID-19 vaccine. Like thousands of others to date, his request for religious exemption did not get approved.
"I volunteered for an assignment to help out at the southern border earlier this year," he said. Since he has experience in counter-drug operations, he thought he would be a good fit. "However, as soon as I submitted my paperwork, my platoon sergeant said I wouldn't be approved because I'm not vaccinated," he said.
"I'm sitting on the sidelines for what?" he asked. "Not only have I missed out on opportunities like this and other opportunities for training, but I've also missed out on a promotion to sergeant because I'm unvaccinated," Martin said. "And now, the constant push to take the vaccine gives me anxiety."
"The Army National Guard plays a big role in the Army, because they augment the active-duty service members," Martin said. "We fill in the gaps, whether it be for riots, hurricanes, or combat missions."
He is aware of people not joining the military because they would have to get vaccinated for COVID-19, and it's a risk they're not willing to take. "On top of that, they're hearing how people are being treated for not taking the vaccine," he said, adding that "they're being treated like second-class citizens."
In addition, he said, "top leadership is horrible, and people are starting to notice that the system is failing."
Martin said, "this is not the military I joined," adding that "the culture of the military is changing rapidly." And he is saddened by it. "It's very unfortunate that we're going to lose all these people due to the ridiculousness of a vaccine that everybody knows does nothing, yet the DoD keeps pushing it," he said.
Mandate Impacting on Recruitment
Like Martin, Fredis Kindelan also rejects the vaccine for reasons related to its efficacy and legality. Having served as a warrant officer for 15 years, Kindelan resigned from the Army in May.
"I couldn't in good faith follow the orders of leaders who would not stand up against an unlawful order," he told The Epoch Times, explaining that "the shots that have been made available to the service member population is exclusively under the emergency use authorization (EUA)."
Kindelan, like other service members who contest the validity of the vaccine mandate, points to the language of Secretary of Defense Lloyd Austin's August 2021 directive and argues that it only applies to vaccines that have full approval from the Federal Drug Administration (FDA). He contends that service members have the right to refuse a product under EUA.
Between 2014 and 2017, Kindelan was a recruiter for the Army. At the time, he said, serving in the Army was "honorable and prestigious," but today's Army is "not what it used to be." And this is reflected in recruiting shortfalls and retention rates, he said.
Recent recruits are leaving the Army after a shorter-than-desirable timeline, according to Kindelan. "After getting a firsthand view of the military's quality of life, many are experiencing something no one had warned them about," he said, adding that "from a recruiting standpoint, a recent initial entry training graduate is typically an effective asset to spread the message."
Kindelan explained, "The United States Recruiting Command would like recruiters to articulate highlights to the service's target audience, [as] the impact an individual within the same age group as the prospective young adult the DoD looks for can be invaluable."
With the start of the COVID-19 pandemic and Austin's subsequent August 2021 announcement of a military vaccine mandate, things started to change, Kindelan said.
"After exercising the right to refuse the EUA product, I and many others were discriminated against for expressing medical concerns with a product that hadn't been clinically tested to FDA standards," he said.
Now, he said, this story is having a big impact on recruiting and retention as "it's being broadcast loudly within the communities [of potential recruits] that the DoD relies on to sustain personnel management."
"The military is struggling to meet training quotas, recruiting numbers, and retention numbers," Kindelan said. "Today, commanders have become so competitive with their fellow commanders that they are more than often drafting fraudulent unit statistics, so they can report to their superiors that they've met training obligations."
He said, "Commanders and their senior leaders in the latter part of their service with 10 or more years in, are so committed to securing their next promotion and retirement pension that they've compromised overall readiness and the sustainment of the organization.
"This cultural behavior leaves little room to preserve a healthy future generation of quality freedom fighters."
Kindelan concluded: "If the DoD's goal of sustainment and readiness is to persevere, then more leaders need to stand up against the corrupt bureaucracy that has led our nation's service member exodus."
Neither the Department of Defense nor the Department of the Army returned requests for comment from The Epoch Times.
Outgoing House Intelligence Chairman Adam Schiff (D-Calif.) said the Jan. 6 committee will have to "scrub" some evidence from its final report before Republicans take over the house in 2023.
During an appearance on CNN's "State of the Union" on Sunday, Schiff was asked by anchor Dana Bash about Rep. Jim Jordan (R-Ohio) becoming chairman of the powerful House Judiciary Committee and will "go through the evidence you left out … you're saying that there won't be evidence that will not be made public?"
"The evidence will all be made public," Schiff told Bash in response. "Now, we will have to make sure that we scrub that evidence for personally identifiable information, that the evidence that we provide protects people's security, it doesn't put them at risk. So, there are things that we're going to have to do along those lines."
Schiff also rejected claims that the House Jan. 6 committee pandered too much to outgoing Rep. Liz Cheney's (R-Wyo.) animus toward former President Donald Trump.
"One former staffer told 'the Washington Post' that people working for the committee became … 'discouraged' when they felt it had become a … 'Cheney 2024 campaign,'" Bash told Schiff, asking him: "Is that fair?"
"I have never viewed it that way. And I think her role on the committee has been indispensable. I have tremendous respect for her and for Adam Kinzinger," Schiff asserted. He was referring to outgoing Rep. Adam Kinzinger (R-Ill.), who, like Cheney, is a Republican critic of Trump.
Republicans and Trump say that the House Jan. 6 committee, which is dominated by Democrats, lacks credibility and is a partisan attempt to wound the former president.
Rep. Troy Nehls (R-Texas) told The Epoch Times last week the Jan. 6 committee is an attempt to harm Trump's presidential bid in 2024.
"I think Nancy Pelosi could have prevented all this," Nehls said. "They could have prevented it but they chose not to—they chose not to.
More Details
Elsewhere in his interview, Schiff declined to say whether he would comply with a House Republican subpoena when the GOP takes control.
"We'll have to consider the validity of the subpoena," he said. "But I would certainly view my obligation, administration's obligation to follow the law. And the fact that they have disrespected the law is not a precedent I would hope that would be broadly followed. But we'll have to look at the legitimacy or lack of legitimacy of what they do."
Schiff, meanwhile, did not say when the final Jan. 6 select committee's report would be released to the public. The panel will end with the start of the next Congress in January 2023—like all other select committees created during the current session of Congress.
"We're going to get to a consensus on the report; we're very close to that now," Schiff said Sunday.
When Republicans take the majority next year, it's not likely they will opt to revive the Jan. 6 select committee. Few GOP House lawmakers expressed support for the panel other than Cheney and Kinzinger.
About a week ago, fellow committee member Rep. Zoe Lofgren (D-Calif.) told CBS News that the panel plans to release "all the evidence … within a month."
The White House's COVID-19 response coordinator Ashish Jha said that the Chinese Communist Party's (CCP) "zero-COVID" strategy is unrealistic amid the largest protests across China in decades.
Thousands of demonstrators came out in Shanghai, Beijing, Urumqi, Wuhan, Chengdu, and other major Chinese cities over CCP-mandated lockdowns, mandatory COVID-19 tests, mask orders, and other rules. The CCP officially has pursued a "zero-COVID" policy for months and has shown no signs of stopping.
In some areas, protesters chanted: "Xi Jinping! Step down! CCP! Step down!" Police in Shanghai, Beijing, and other major cities were called in to break up the demonstrations.

"I think it's going to be very, very difficult for China to be able to contain this through their zero-COVID strategy," Jha, who was a Newsmax contributor before he was named to his White House position, told ABC News on Sunday in response to the unprecedented protests in China. "We don't think that's realistic, certainly not realistic for the American people," he added.
Jha then claimed that vaccinations "particularly for the elderly" are the "path out of this virus." He continued, "Lockdown and zero-COVID is going to be very difficult to sustain."
In the early hours of Monday in Beijing, two groups of protesters totaling at least 1,000 people were gathered along the Chinese capital's 3rd Ring Road near the Liangma River, refusing to disperse, according to the Reuters news agency.
"We don't want masks, we want freedom. We don't want COVID tests, we want freedom," one of the groups chanted.
On Saturday, a vigil in Shanghai for victims of the apartment fire turned into a protest against COVID curbs, with the crowd chanting calls for lockdowns to be lifted.
"Down with the Chinese Communist Party," one large group chanted in the early hours of Sunday, according to witnesses and videos posted on social media, in a rare public protest against the CCP.

More Protests
In the central city of Wuhan, where the pandemic began three years ago, videos on social media showed hundreds of residents take to the streets, smashing through metal barricades, overturning COVID-19 testing tents, and demanding an end to lockdowns.
And on Sunday, a large crowd gathered in the southwestern metropolis of Chengdu, according to videos on social media, where they also held up blank sheets of paper and chanted against Xi, who has scrapped presidential term limits.
Eva Rammeloo, a journalist for the Dutch Fidelity who was at a Chinese protest site, stated that she's "never seen anything like this" in the 10 years of her reporting inside China. There were more than 1,000 protesters in the early morning on Nov. 27, she estimated.
And one Western academic, David Moser, noted on Twitter: "I've lived in China for 30 years, and I've never seen such a brazenly open and sustained expression of rage against the PRC govt. WeChat is exploding with protest videos and furious vitriol, and civil disobedience is becoming rampant. This is a serious test of CCP governance."
"No one likes the CCP or Xi Jinping," a Shanghai resident told The Epoch Times this weekend, adding that Chinese people are "fed up" with the draconian CCP policies around COVID-19. They noted that the economy is being hit hard.

"All sectors are suffering. We need to feed ourselves, to support our family. With no income, how could we survive?" the man said.
Users of the Chinese social media platform Weibo left new comments under the last post by Li Wenliang, the Wuhan doctor who officials claim died from COVID-19 in early 2020. Li's death sparked widespread anger at CCP officials who were accused of preventing him from publicizing the initial outbreak in Wuhan.
Last week, protests occurred at China's largest iPhone assembly factory as workers were seen confronting police in riot gear. Video footage published online showed workers squaring off with local authorities at the Zhangzhou Foxconn campus.
Reuters contributed to this report.
Officials in Arizona's Maricopa County demanded county elections officials delay certification and answer questions about how the Nov. 8 midterm elections were conducted.
The Maricopa County GOP said in a news release on Nov. 25 that the Maricopa Board of Supervisors should "delay certification" of its election results until those officials have "fully responded" to a letter issued by the Arizona Attorney General's office and another sent by Arizona Republican Party Chairwoman Kelli Ward earlier this month.
On Nov. 8, Maricopa County Board of Supervisors Chairman Bill Gates and Recorder Stephen Richer confirmed that there were problems with tabulation machines and later blamed the issue on a printer error.
"People were still able to vote, it was just a matter of maybe not voting in the way they wanted to," Gates said on Nov. 8. "We do not believe that anyone has been disenfranchised, because no one has been turned away."
But Arizona gubernatorial candidate Kari Lake and others say that voters have come forward to say that had issues with casting their ballots on Election Day, prompting Lake to file a lawsuit last week against the county. In a separate interview, Lake said she'll file a larger suit against the county.
Democrat Katie Hobbs, the current secretary of state who is running against Lake, declared victory earlier this month. Arizona Gov. Doug Ducey, a Republican, issued a statement last week that he will be working with Hobbs's team on transferring power and recognized Hobbs as the winner.
With 99 percent of the vote counted, Hobbs leads Lake by more than 15,000 votes, according to data provided by The Associated Press. Earlier this month, Republican Senate candidate Blake Masters conceded to Sen. Mark Kelly (D-Ariz.) in another hotly contested statewide race.
'Critical Information'
According to the Maricopa GOP, county officials need to provide "critical information that Maricopa County voters were NOT disenfranchised" on Nov. 8 and confirmed whether the vote tabulation issues on Nov. 8 had a "material impact on the results of this election."

"We ask that you respect the voters of Maricopa County, listen to our concerns, and answer our questions before certifying the November 2022 General Election," they wrote. "It's the right thing to do."
In response to the letter, the Maricopa Board of Supervisors indicated that the canvass for the Nov. 8 election will be completed by Monday, Nov. 28. Gates last week also indicated that officials will not delay the vote canvass before certification.
"The employees whom the Custodian of Records will call upon to search for these documents are currently preparing the reports and other documents necessary for the canvass of the election, which the law requires them to complete by Monday, November 28, 2022," it said. "They cannot set aside their legal obligations to commence the search for these records (or other records identified in other public records requests received before this one) until after the important tasks related to the statutorily required canvass are complete."
Ward, who posted Maricopa County's letter on Twitter, criticized county officials over the move.
"Maricopa County says they don't have records, they don't have time, & even if they DO find any records if they ever finally have time to look, it will be MUCH too late for Arizona," Ward wrote on Twitter.
Legal Challenge
Maricopa County, which includes Phoenix and includes some 60 percent of Arizona's population, has become the center of election lawsuits and challenges in 2022.
It comes as Lake's team filed a lawsuit (pdf) against Maricopa County that demanded the release of the country's election records.
"This deadline (or its substantial equivalent) is, under the circumstances presented, necessary to ensure that vital public records are furnished promptly and that apparent deficiencies can be remedied before canvassing of the 2022 general election," Lake's complaint said.

"So we filed this lawsuit in court today asking the county to cough up some of the public documentation we need for our bigger lawsuit," Lake told Just the News on Wednesday.
She added: "Many people are saying they want a redo of Maricopa County. I've heard people say throw it out. We have not determined what the remedy is. But I don't think you can fix what happened."
The Epoch Times has contacted Maricopa County for comment.
Early voting in Georgia's Senate runoff election started Saturday following a court ruling issued by the state's highest court to determine whether Democrats can expand their majority in the upper chamber.
A top Georgia election official, Gabriel Sterling, wrote that 69,297 people voted on Saturday, the first day of early voting for the Dec. 6 election between Sen. Raphael Warnock (D-Ga.) and GOP candidate Herschel Walker. Sterling, who drew criticism for his claims following the 2020 election, added that Day 2 of voter turnout will top 100,000.
"We will break 6 figures in voting today cumulatively, and likely may already have," he wrote on social media Sunday.
Last week, the Georgia Supreme Court ruled in favor of Democrats and Warnock in allowing early voting to start on Saturday. Officials in the Georgia Secretary of State's office had attempted to implement a rule to prevent early voting Saturday, which comes after a state holiday on Friday, and Thanksgiving.
The runoff was triggered after the first round of voting on Nov. 8 in which neither Walker, a former NFL running back, nor Warnock got more than 50 percent of the vote. Warnock was ahead of Walker by about 37,000 votes out of 4 million during the Nov. 8 contest.
The Libertarian Party candidate, Chase Oliver, garnered about 2 percent of the vote—around 81,000 votes—and was a distant No. 3 behind Warnock and Walker. In the Dec. 6 runoff, Oliver will not be included.
Neither President Joe Biden nor former President Donald Trump opted to campaign for either Warnock or Walker, respectively, in Georgia ahead of the runoff. However, it was announced that former President Barack Obama would campaign in favor of Warnock, while several top Republicans including Sen. Ted Cruz (R-Texas) and Sen. Lindsey Graham (R-S.C.) have attended events to boost Walker.
Filings with the Federal Election Commission earlier this month show that Warnock has significantly more campaign cash than Warnock, according to reports. As of Nov. 16, Warnock had $29 million on hand while Walker had about $10 million, the filings show.
Regardless of the outcome next month, Democrats will still have a majority in the Senate after netting 50 seats after GOP candidate Adam Laxalt conceded Sen. Catherine Cortez Masto (D-Nev.) on Nov. 15 in the race for Nevada's Senate seat. All Democrats need are 50 seats because Vice President Kamala Harris can serve as the tie-breaker.
Stakes are still high because a Warnock victory would provide Democrats with a majority outright and would give the party a majority on committees. That would, in part, allow them to advance President Joe Biden's judicial nominees more quickly.

Senate Minority Leader Mitch McConnell (R-Ky.) told reporters on Wednesday that the GOP has "a second chance in Georgia to get it right," adding, "50 is better than 49 and we're going to give it everything we've got."
A victory by Warnock would mean that Democrats could lose the support of one member of the caucus and still obtain floor votes. However, the party will still have to contend with Republicans having a majority in the House of Representatives.
During this election cycle, Republicans were defending 21 Senate seats, as compared with Democrats' 15. And in the 2024 elections, Democrats will be defending 21 seats to the Republicans' 10.
Two of those seats are in Republican-leaning states West Virginia, Montana, and Ohio. Another five are in the swing states of Pennsylvania, Nevada, Wisconsin, and Arizona, all of which will be in play during the presidential election. Given the chamber's narrow divide, the Georgia seat could be a needed bulwark.
Campaign
Both candidates have been heavily campaigning across the Peach State since the midterms ended. Walker took out an advertisement that criticized Warnock for voting against an amendment that would block biological males from competing in women's sports.
"Warnock's afraid to stand up for female athletes," Walker said in the ad alongside Riley Gaines, a female swimmer who competed against the biologically male swimmer Lia Thomas.
Last week, Warnock said that Walker isn't qualified to be a senator.
"That brother could razzle dazzle you on that football field," the Democrat senator conceded, referring to Walker. "But tonight we're on a different field," Warnock told a crowd in Wrightsville. "And the people of Georgia need a true champion."
Georgia's Supreme Court issued a unanimous, one-sentence ruling (pdf) on Nov. 23 to uphold a lower court decision that blocked Secretary of State Brad Raffensperger's directive to prohibit counties from voting on Saturday, Nov. 26. The court did not provide an explanation for its decision.
The Georgia Republican Party, the National Republican Senatorial Committee, and the Republican National Committee filed a petition with the state's highest court and asked it to issue an emergency stay of the lower court's ruling. Early, in-person voting ends on Dec. 2, or about four days before the runoff election.
Warnock was elected to the Senate in early 2021 to fill the remaining two years of former Sen. Johnny Isakson's (R-Ga.) term after he resigned at the end of 2019 for health reasons.
Reuters contributed to this report.
At least 42 Biden administration officials were sent letters by Republicans on House Judiciary Committee this month as they request testimony from a variety of different White House officials.
Those letters primarily dealt with the suspected politicization of the FBI and Department of Justice (DOJ), investigations into U.S. border security, and Hunter Biden.
A recent letter (pdf) led by Rep. Jim Jordan (R-Ohio) to White House chief of staff Ron Klain requested testimony from Biden administration staffers relating to alleged "misuse of federal criminal and counterterrorism resources to target concerned parents at school board meetings." Interviews from four White House officials were requested.
Around the same time, another letter (pdf) from Jordan was sent to the Department of Education requesting testimony from three officials, and another letter to the Department of Homeland Security requests interviews from around a dozen administration officials. That includes embattled Homeland Security Secretary Alejandro Mayorkas and U.S. Immigrations and Customs Enforcement chief Tae Johnson.
Even more DOJ and FBI officials were asked to testify during the next Congress, according to two separate letters (pdf, pdf) sent by Jordan and others last week. They are seeking testimony from Attorney General Merrick Garland, FBI Director Christopher Wray, Garland deputy Lisa Monaco, and dozens of other DOJ and FBI officials, according to a Washington Examiner analysis of the GOP-backed letters.
It's likely that Republicans will seek to investigate how the FBI and DOJ handled its investigations into former President Donald Trump and the raid targeting Mar-a-Lago in August. Republicans and Trump have long said the two agencies have exhibited a politically motivated animus toward the former president, coming after Garland announced he had appointed a special counsel, Jack Smith, to investigate him.

More than a week ago, Garland appointed Smith as special counsel to "oversee two ongoing criminal investigations" into Trump, namely the incident surrounding the Jan. 6, 2021, Capitol breach and the Mar-a-Lago raid, according to a DOJ news release. Just days before, Trump announced he would be embarking on a third presidential bid in 2024.
Other Investigations
Incoming House Majority Leader Steve Scalise (R-La.) revealed that some of the GOP's priorities for the incoming Congress are probing the origins of COVID-19, the widely criticized U.S. withdrawal from Afghanistan, and allegations surrounding Hunter Biden.
The House Oversight Committee under its incoming chairman, Rep. James Comer (R-Ky.), is "ready to go start looking into a lot of the questions that people have had," Scalise told Breitbart this weekend. "Whether it's Hunter Biden's dealings with all kinds of foreign countries [or] the laptop scandal, which the liberal media tried to dismiss when it came out in 2020," he added. "It's been verified."
He added, "It turns out there's a lot of information on that laptop that raises serious questions, and James Comer's committee's going to be asking those."
"The origins of COVID is something we've talked about a lot, and looking into whether or not taxpayer money was used by companies like EcoHealth Alliance to promote gain-of-function research in the Wuhan lab, where many scientists have said that's where COVID started, not at some wet market," Scalise added, referring to claims that the U.S. National Institutes of Health provided funding to EcoHealth to carry out the controversial research into bat coronaviruses in the years before the emergence of COVID-19, a type of coronavirus.
Scalise also referenced the U.S. military's withdrawal from Afghanistan last summer, which many analysts claim was botched. In just over a week after pulling out of the country, Taliban militants were able to quickly recapture the country as throngs of Afghans gathered near the Kabul airport.
"Did they leave caches of guns behind to the Taliban with ammunition and night vision goggles?" Scalise told the outlet. "All of those reports we've seen, there's never been a thorough hearing on it. Who was in the room? Which generals said it's okay to leave that behind so that the Taliban can get it?"
Earlier in the week, Comer, the likely next House Oversight chairman, told Just the News that Republicans will investigate some 150 suspicious activity reports relating to Hunter Biden.  There have been allegations that Joe Biden was involved in his son's controversial overseas business deals, which the elder Biden has denied.
"The Democrats have set a precedent on this," he explained. "They filed suit forcing former President [Donald] Trump to have to turn over his tax records. So the Democrats have already set a precedent for bank records and tax records."
With just two races left uncalled after the 2022 midterms, Republicans have netted at least 220 seats to Democrats' 213. Republican candidates lead in two seats in Colorado and California, according to data provided by The Associated Press.
Evangelist Franklin Graham is calling on Americans to contact their senators, warning them that the so-called "Respect for Marriage Act" legislation would fail to protect individuals with the traditional concept of marriage.
"The Respect for Marriage Act is coming before the Senate again on Monday. Why should that matter to you? Because it could impact you, your family, your church, and our nation. The name is a smoke-screen. Very deceptive," wrote Graham, president of Samaritan's Purse and Billy Graham Evangelistic Association, on his Facebook page on Nov. 26.
He added, "It's like the Democrat's 'Inflation Reduction Act' that did nothing but increase inflation and further hurt our economy."
The Respect for Marriage Act (RFMA) would repeal the definition of marriage as between a man and a woman and a spouse as a person of the opposite sex. It would not require states to issue same-sex marriage licenses but would force them to recognize same-sex marriages performed in other states.
The House approved a version of the legislation in July by a bipartisan 267–157 vote, with 47 Republicans backing the bill. A day after the House vote, Senate Majority Leader Chuck Schumer (D-N.Y.) said he intended to get the bill to the Senate floor.
On Nov. 16, the Senate voted 62 to 37 to invoke cloture on the motion to proceed to the legislation, with 12 Republicans joining all 50 Democrats voting to advance the bill. Before the Senate vote, Schumer urged his colleagues to vote yes on the bill in a Senate floor speech, saying the legislation would make the United States a "better, fairer place to live."
After the legislation passed cloture in the Senate, Tony Perkins, president of the Washington-based conservative advocacy group Family Research Council, issued a statement criticizing the Senate for "making a mockery of marriage as it tramples on a foundational right—religious freedom of the individual."
The Senate is scheduled to convene and resume consideration of the legislation on Nov. 28.
"The current version of the Respect for Marriage Act being pushed by Senator Chuck Schumer is designed to provide strong protections for same-sex marriage—but it fails to protect those of us who believe marriage is between a man and a woman," Graham wrote.
He added, "It is dangerous legislation that would be used against individuals, churches, and organizations who honor traditional marriage."
Amendment
To improve the current Senate legislation, Graham said it was important to include an amendment by Sen. Mike Lee (R-Utah).
"The Lee Amendment, if approved, can bring critically-needed protection for religious liberty and rights of conscience to the pending legislation," Graham wrote. "Many say this is a long shot, but we desperately need Senators to demand the Lee Amendment be added to the current version of the Respect for Marriage Act before it is finalized."
If added to the Senate bill, the proposed amendment would prohibit the federal government from taking any discriminatory action against any person who has a moral conviction or religious belief that marriage should be between "one man and one woman" or a union of "two individuals as recognized under federal law," according to the language of the bill.
The amendment lists many examples of what such discriminatory action would be, including withholding, reducing, or denying "any entitlement or benefit under a Federal benefit program." Another such action is to "alter in any way the Federal tax treatment of, or cause any tax, penalty, or payment to be assessed against, or deny, delay, or revoke an exemption from taxation."

Lee's amendment is currently co-sponsored by 13 Republicans, including Sens. Ted Cruz (R-Texas), Rick Scott (R-Fla.), Josh Hawley (R-Mo.), Roger Marshall (R-Kan.), and Rand Paul (R-Ky.).
In a letter to colleagues dated Nov. 17, Lee explained that his amendment would offer individuals and groups protections.
"My amendment would ensure that federal bureaucrats do not take discriminatory actions against individuals, organizations, nonprofits, and other entities based on their sincerely held religious beliefs or moral convictions about marriage by prohibiting the denial or revocation of tax exempt status, licenses, contracts, benefits, etc." Lee wrote.
Lee added, "It would affirm that individuals still have the right to act according to their faith and deepest convictions even outside of their church or home."
On Nov. 25, Lee took to Twitter to comment on the upcoming vote on his proposal.
"The Senate will be voting on the Lee Amendment next week, and if it isn't adopted, no one who claims to support religious freedom should support the RFMA," Lee wrote.
Action
Graham called on Americans to reach out to their senators immediately over the legislation.
"Call your Senators as soon as possible and ask them to vote YES for the Lee Amendment—or to vote NO to the Respect for Marriage Act if it doesn't have this amendment," Graham continued.
He added, "Time is short—freedom-loving people have to take action before it's too late."
Like Graham, Family Research Council is making the same appeal.
"Tell your senators to insist that Senator Mike Lee's amendment is adopted into the (Dis)Respect for Marriage Act," the group wrote Twitter on Nov. 23. "Email your senators, the next vote on the bill is Monday, November 28."
PHOENIX, Ariz.—They came. They sat. They protested, and they left.
Few in attendance expected the disappointingly low turnout at a well publicized "sit-in" demonstration to demand a new midterm election in Maricopa County, Arizona.
David Clements, a former New Mexico State University business professor, wasn't satisfied with the poor showing. Clements lost his job in October 2021 for refusing to get a COVID-19 vaccination.

"This is you saving your country for your children. So you have to fix your vision right now, folks," Clements told the gathering of around 150 protesters at the city's downtown veterans memorial on Nov. 25.
"Are you tough, or are you not? Are you weak? Are you feckless? Or are you someone who will stand firm and grow this crowd?" Clements said, hoping to inspire the rally goers to call for reinforcements.
The group #AZRevote organized the daylong sit-in on social media and a prayer rally on Nov. 26, calling on as many people to show up with signs, banners, and righteous indignation.

The rally coincided intentionally with Black Friday—the nation's premier post-Thanksgiving retail shopping event. But the call went largely unanswered.
Many suspected that fear of a Jan. 6 type reaction was to blame.
"They kept saying they wanted it to be kept quiet," said Sheryl Stokes of Phoenix, citing online warnings from conservative groups. "People have lost complete faith."
Her husband David sat next to her, hoisting an American flag on a high pole to show his support for the sit-in.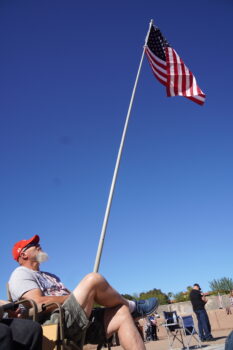 "I'm not sure what we'll see come out of this," he said. "We wanted to do something. We're tired of this [expletive]. It's crazy. It's socialism."
Stokes said that anger and frustration with the county's handling of the midterm election is reaching the boiling point. Eventually, it could spill over into political unrest—something he doesn't want to happen.
"We're going to start seeing some of that if we don't start doing something ourselves," he said.
And Stokes didn't mince words about what he believes happened in the midterm election. He thinks that Arizona Democrats stole it, like he alleges they did with the 2020 election.
Maricopa County had a disputed 2020 election result following a ballot audit and recount of votes. The audit reported finding no record of the county sending more than 74,000 mail-in ballots.
President Joe Biden was the first Democratic presidential nominee to be declared the winner of Maricopa County in decades. His win was by a narrow margin of 10,457 votes.
"We knew they were going to do it. When you have the person [Arizona Secretary of State Katie Hobbs, the Democratic candidate for governor] certifying the election—give me a break. How is this happening? It's just amazing to me," Stokes told The Epoch Times.
"We're talking serious voter suppression," said Arizona State Sen. Kelly Towsend (R) in her address to the gathering.
"The question is, was it intentional?"


Many protesters arrived at the sit-in carrying flags or wearing flag-themed clothing. Kyle of Maricopa County wore a red shirt, cap, and stars-and-stripes pants while Dan Schroeder of Mesa waved an SOS flag.
"I do believe there's a chance—I'm hopeful that there's a chance" for a new election, said Anne Howell of Phoenix, sitting against a stone wall with a homemade sign that read, "Stop The Steal."
"I believe [the election] was corrupt. And I believe it was intentional," she said.

Howell said her biggest fear now is that her children will have to live in a state governed by corrupt domestic and globalist foreign interests.
"It will be devastating. There will be very few haves, and the rest will be the have-nots. I believe that with all my heart. I'm scared to death," Howell told The Epoch Times.
Those who wished to speak during the sit-in received the microphone and three minutes to express themselves.
"I'm not mad—I'm furious!" one speaker cried out.
Another asked, "Do you think President Trump will save you? If you are waiting for the legislature to get to the point where they grow a conscience—finally—do you think that is going to happen?"
"No!" several protesters shouted.
Stephen Tenner of Arizona said the low turnout disappointed him, given that election integrity and the future of the country are at stake.
"We must start waking people up. We have to take our country back one day at a time. We are the pioneers here today. Hopefully, tomorrow it will be much busier. We'll have to keep spreading the word. Keep fighting and fighting and fighting. Eventually, we will win," Tenner told The Epoch Times.

Sit-in organizer Brian Morris, a conservative candidate in the District 27 Arizona House primary, said demanding a "re-vote" was non-negotiable.
"We don't believe the voting took place legitimately or honestly. And we don't believe in the results," said Morris, who questioned fair process after more than 30 percent of ballot tabulation machines failed on election day.
Morris said grassroots protests would continue as America First candidates who lost in the election under a shroud of uncertainty seek redress through the courts.
On Monday, Nov. 28, the Maricopa County Board of Supervisors will meet in a special executive session to canvass the election results. The board will also respond to the Attorney General's Office letter demanding an explanation for widespread tabulator and printer failure in predominantly Republican precincts on election day.
"There's so much evidence to the fraud that it's hard to turn your eyes away from it when they're open," Morris told The Epoch Times. "A recount isn't going to do it. If you're counting faulty ballots, why recount them?"
Erich, an Arizona resident, advised the sit-in participants to learn from the millions protesting alleged ballot fraud in Brazil where a socialist president has been declared winner of the election.

"These people want what we have," Erich said, waving American and Brazilian flags. "These people don't have guns and are out there fighting. [Americans] are at home ordering from Amazon on Black Friday.
"Brazil is teaching Americans how to do this, folks," said Clements.
"They've got three million people outside [protesting]. And because we're so fat and comfortable shopping, we'll let our republic go down."
"Dig in, folks. It's time to camp [out]!"

At 6 p.m., Michael Mendoza of Mesa was among the last few people still at the rally. As the nighttime chill crept in, he refused to abandon his fold-out chair, his knees covered in a warm wool blanket.
A little discomfort was worth it, considering what he sees is the alternative.
"I'm seeing my way of life go bye-bye," Mendoza said.